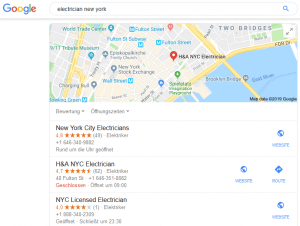 Local Citations Optimization is one of the most powerful strategies to get ranked on Google Maps. Ranking higher in Google Maps search will improve your organic ranking and drive traffic to your website.
The Google Maps algorithm, which is constantly being tweaked and updated, has been designed to show businesses that are near to the user or offer a specific service they are looking for. That's why it's important to have citations (local listings) optimized with accurate information about your business – location, phone number, contact email address, hours of operation and more.
A local citation is any mention of a business or store on the web. It is any combination of the company name, phone number, address, zip or postal code, and website address. Local Citations help internet users to discover local businesses and are very important for improving local search results. Local businesses can actively manage many citations to ensure data accuracy.
Local citations can have various forms and levels of details, for example:
Company name
Company name & phone number
Company name, phone number, & address
Company name, phone number, address, & website
Company name & website
Company phone number.
A complete local citation should include the company name, address, and phone number, which is referred to as your "NAP". A citation that does not include all three of these is sometimes referred to as a partial citation.
You'll sometimes also hear people talk about a NAPW or a UNAP citation as well. The W refers to Website, and the U refers to URL. The website link you get from a citation offers you additional value, because it provides an extra data point that helps the search engines connect the citation to your business, so some people like to include it in the acronym.
Citations can be divided into two categories, structured or unstructured.
Structured Citations
A structured citation is your business information (NAP) on a business listing directory. When you see lists of citation sites, these are pretty much always business listing directories where you can submit your business and get a citation. Example sites for structured citations include:
Yelp
Yellowpages
Facebook
Superpages
MapQuest
Why do local citations matter?
Local citations either positively or negatively impact local search engine rankings. The number of citations a business has, the accuracy of the data they feature, and the quality of the platforms they exist on all influence rankings. Search engines like Google collect data about each business. If the data is accurate, the search engine trusts the validity of the data, which will strengthen the business' chance of ranking well. However, if the data search engines collect is inconsistent, this trust is eroded, weakening ranking opportunities.
Local citations either positively or negatively impact consumers. Accurate citations help people discover a local business, which can result in web, phone, and foot traffic, leading to transactions. Inaccurate citations, however, can misdirect customers, leading to loss of reputation and revenue.
Local citations can help businesses to drive traffic and attract customers who live close by but may not have heard of the business yet. The benefits of local citations are clear, so contact us to get your website featured on the top position of Google maps.