Google Maps 3-Pack Optimization
If you're running a local business, Google has an effective solution for your local marketing needs. Marketing on Google Maps is a great way to reach local audiences.
It is essential for any business to get a good, quality amount of traffic from search engines. But finding the fastest and most effective way to reach your target audience can be a big challenge for a company.
So if you want your business to rank high on Google, but your competition is currently dominating local search results with the same keywords and geographic areas, then we're here to help.
Google Maps is the ideal marketing solution for your local needs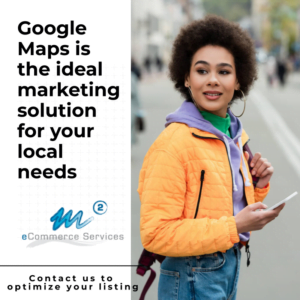 1. Google Maps is effective
For a local SEO measure, Google Maps Marketing is probably the easiest and fastest way, which has proven to be highly effective. So, if you are promoting your business online but the audience you want to reach is limited to a certain area, consider this marketing tool to be easily found by searching for your keywords or company name.
2. When searching, most people rely on Google
In fact, it is known that almost everyone searches through Google and the majority of people also rely on Google for their results. Especially when it comes to searching for local business services, organizations, goods, etc., Google Maps is the source of trust for users.
So you understand why Google Maps plays an important role in the world of the Internet to help users quickly and easily get accurate information about businesses in the area.
Let Google know your business exists
In order for your target audience to be able to reach your company through search, it is important to let Google know that your company exists. Make sure that Google can crawl your page and have yourself indexed – otherwise you won't appear in search results.
The importance of appearing on Google Maps
If you have a business, local shop, or organization and it isn't found on Google Maps for your target keywords (or at least when you search for the company name), then you are losing a lot of potential customers very quickly to your competitors.
Whether it is simple things like opening times or your location, if a user does not get clarity or his information and another company appears nearby, the chance is very high that your actual potential customer will consider this company because it gives him the information you couldn't.
You can expect high sales rates from Google Maps
Companies that are already listed on Google Maps can focus on improving their sales performance and taking their business to the next level. There are many opportunities for your business with a free Google My Business listing.
How to appear in the Google Maps 3 Pack results?
Typically, Google only shows 3 companies on page 1 of the Maps search results; these results are known as the so-called Google Maps 3 Pack.
Placing the business listing in the Google 3 Pack for your main keywords should be the goal to get quality traffic and increase your conversion rate.
So, you are now wondering how the Google Maps 3-Pack Optimization process works in detail. To optimize your Google Maps listing follow these steps:
1. Create a Free Google Maps entry
Fortunately, Google allows all business information (if correct and genuine) to be submitted to Google Maps. Simply add your information to the Google My Business profile for free!
2. Create a Google My Business account
Businesses should take advantage of the opportunity offered by Google by submitting and verifying their business information with Google. The process on top of this is really simple: all you need is a Gmail account where you can create a Google My Business (GMB) listing.
Google My Business is a great way to create free business listings on Google Maps for Business and then appear directly on Google.
3. Verify Your GMB profile
Once the Google My Business listing has been verified by Google, the business information will appear in the Google Maps results. You can easily check this by typing your company name into Google search.
4. Provide more detailed business information
To help customers reach you, Google offers more options than just your company name and phone number. This additional information includes the company name, address / telephone number, website, directions, opening times, pictures, customer reviews, etc. All of this helps the visitor to find out more about your company.
5. Use Call-to-action buttons
The Google Maps results are compatible and easily accessible on all types of smartphones, mobile devices, tabloids, desktops and laptops and also provide call-to-action information about your business. These also appear in the search results and make it easy for potential customers to contact or call you. These buttons are known to be easily accessible and particularly user-friendly.
Optimal customer interaction on Google Maps
Customers can not only get information about your company or find you quickly in local search results. With the possibility of inquiries and ratings, the customer can reach you and you can react accordingly to the customer. This customer interaction increases the loyalty to your company.
A particularly practical feature is that customers can make a call directly from your GMB entry using your stored number.
Google Maps Traffic Overview
So whether the customer calls you or communicates with you in some other way, a Google My Business account is very transparent. It provides insights into your traffic and shows how users searched for your company and how often, as well as the number of calls made. It gives you a good overview of how well your organization is running and which areas still need to be optimized in this regard.
Your advantages through Google Maps
Google Maps is an organic free listing. Google offers both a free Google My Business listing and paid local search ads.
Organic results are free listings and you don't have to pay anything to get your business listed and ranked well on Google Maps. But if you want to rank at the top of the 3-pack, you should organize appropriate and effective Google Maps marketing for your GMB entry. Depending on the effort and marketing tactics, the keyword rankings improve and the business entry is placed in a 3-pack.
Google Local Search Ad is a paid advertising tool that you can use to target your local area. Depending on the bid, these local ads will appear at the top of the Google Maps 3-Pack organic search results. The costs are based on the cost-per-click principle. You can set up a budget according to your needs and preferences. Local search ads are great for instant results.
How to find out if you already listed on Google Maps?
The easiest way to find out if your business is already listed on Google Maps is to type in the business name and address into the search bar at the top of the map. If it's not showing up, then there's a chance that you need to add it manually.
<h4″>What should I do if my Business is listed on Google Maps but shown as not verified?
In many cases, business owners cannot find the time to add their business information to Google My Business. Chances are these unlisted companies will be listed on Google Maps by default. In this case, Google gets the address and other basic business information from the Contact Us page of the website. If this listing is found by a business owner, they should be claimed and business ownership verified.
So first you need to search Google for your business name, title or phone number that appears on the contact page of your website. If the entry is found, you can claim it. If you can't find your business listing, you'll need to set one up.
The Google My Business Check List
An overview of the most important information you need for Google My Business:
Business Name / Title (the first letter of each word is capitalized)
Business address
Office / business hours
Business description (about 30 words)
Phone number
Website url
Keywords / tags
Profile picture
Cover photo
Other pictures / photos
Company video
Remember that having a good profile not only attracts and engages customers, but also builds trust in your company. Make sure that your profile is complete and that it has assets (offers, links to blog articles, etc.) and select an appropriate business category.
Important: If there is an entry for an old company in the same place where you register a new company, please do not claim it! Instead, suggest editing so that it is marked closed.
How to register for Google My Business
1. Log into Google My Business.
2. Log into your Google account / create one. Then click on Next. (Sign in with your work email domain.)
3. Enter the name of your company or your chain (you can choose your chain from the suggestions)
4. Enter your company address. (If your company does not have a physical location, but has a service area, enter the appropriate area.) Then click Next.
5. Choose whether you want your business location to appear on Google Maps.
If you serve customers at your business address:
1. Enter your business address.
2. Click Next.
Tip: If you also serve customers outside of your business address, you can also list your service areas.
If you do not serve customers at your business address:
1. Enter your business address.
2. Click on "I deliver goods and services to my customers" below, then click Next.
3. Enter your service areas and click Next.
After these steps:
1. Find and select a business category. You can also choose a more specific category if necessary. Then click Next.
2. Enter a phone number or website URL for your chain and click Finish.
Tip: You also have the option to create a free website based on your information. It is recommended that you provide a separate phone number or business website for each location rather than a single central call center.
3. Select Verification Option. (If you want to be verified later, simply click on that button. If you are not authorized to manage the profile of the business chain, contact the person authorized to do so.)
How to verify and activate your Google My Business Listing
You can verify your Google My Business listing in any of the following ways: by phone, email, letter, or instant review.
Your GMB entry will then be displayed in Google Maps as soon as it has been confirmed by Google.
Once your business listing has been approved by Google, it will appear in the Google Maps results. To see your listing, you can simply search your business name in Google.
How to optimize your GMB entry
Once you've verified your company, it's time to complete your profile. Go to the Google My Business Dashboard, click the listing you want to work on, select About, then choose an area to fill in or update.
Include as much information and media as possible, such as: business portfolio, your area of ​​activity, opening times, attributes (e.g. free WiFi, wheelchair access, etc.), the day and year of opening, as well as a public telephone number and a website URL.
Anyone can suggest an edit to your listing, so it's important that you A) get it right the first time (so you don't encourage people to make their own changes) and B) log into your GMB dashboard regularly and make sure that all the details look right.
You can edit your company profile at any time by logging into your GMB dashboard, clicking on "Info", going to the pencil next to the field you want to edit, making your changes and then selecting Apply.
Google My Business App
GMB is also available as in-app form for iOS and Android. You can use the app to:
Update business hours, location, contact information and description
Publish status and pictures
To display search insights
The app is not there to:
Delete business entries
Change settings
Transferring entries to other users
How to properly optimize for the Google Maps 3 Pack
The next steps are the marketing of your business listings, i.e. Google Maps marketing. The ultimate goal is to get to the top of the Google Maps 3-pack results, or at least within the 3-pack results.
Google always wants to offer its visitors the best. So the question is, what are the best marketing tactics in Google's eyes? To name a few:
Google Maps Optimization (Provide as much information as possible in your GMB profile)
Be active on a regular basis
Provide accurate, relevant and up-to-date information about your business on GMB
Post engaging content (content, HD photos, short videos)
Get more reviews from customers
Respond to customer reviews and questions
Improve customer interactions
Publish blog content on your GMB
Do content-based local SEO
Google Maps Questions & Answers